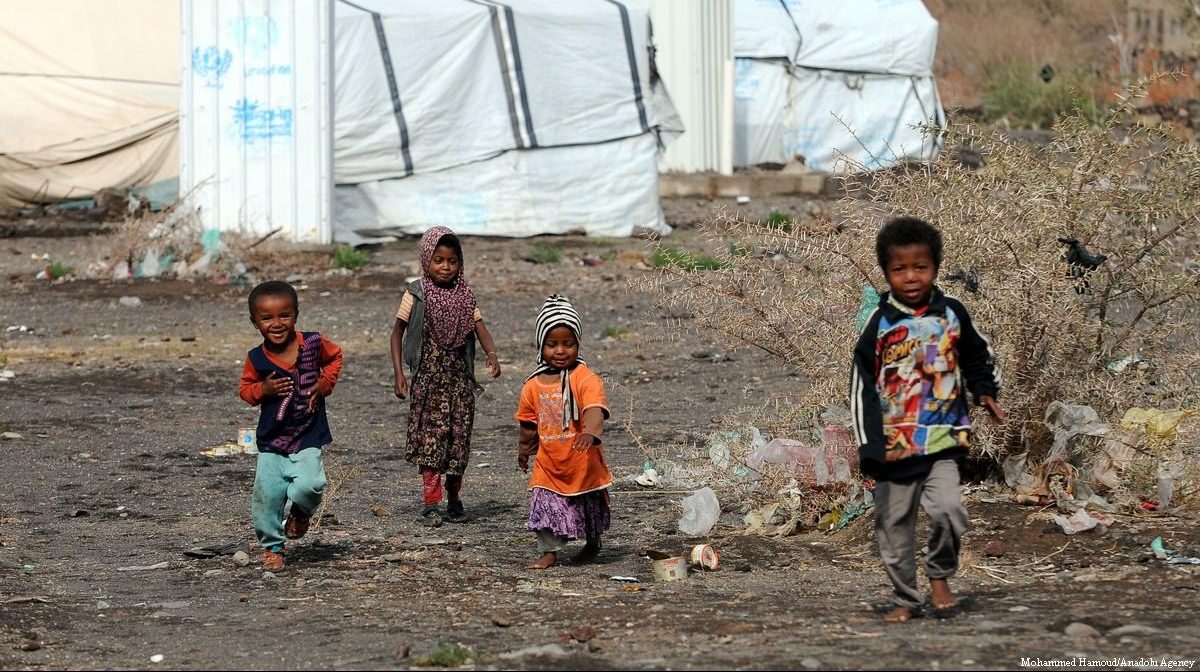 The Center for Disaster Philanthropy regularly monitors the evolution and status of international disasters and emergencies such as the flooding in Pakistan, humanitarian crisis in Afghanistan, the far-reaching Venezuelan refugee crisis, the wildfires in Turkey and the world's largest humanitarian crisis in Yemen.
The CDP Global Recovery Fund provides donors with an efficient, flexible solution to expedite a gift to support recovery efforts for people affected by sudden and slow on-set disasters or protracted humanitarian emergencies worldwide.
(Photo: Children are seen in front of makeshift tents at Darwan refugee camp in Amran north of Sana'a, Yemen. by Mohammed Hamoud/Anadolu Agency; CC BY-SA 2.0)
This fund supports disasters such as:
Basic needs
Disaster and conflict-affected people need to have their basic needs met. This includes access to shelter, food, water and basic services.
Public health
With a disaster or ongoing conflict, gains made in public health – immunization rates, treatment of infectious diseases public sanitation and hygiene and the like – can be quickly wiped out. Health systems are often adversely affected, limiting access to basic health services and increasing the risk of disease outbreaks.
Protection
Ensuring the safety and protection of affected people and access to their basic rights is always a priority during and after a disaster.
Mental health
Ongoing conflict and other traumatic disaster events can cause post-traumatic stress among survivors, requiring psychological first aid and psychosocial support programs.
With support from our Global Recovery Fund, our grantee partners are helping affected communities rebuild stronger than before crisis struck.
Build Change's app gave earthquake-affected families free access to housing recovery information
More stories
Miyamoto Global Disaster Relief
Miyamoto Global Disaster Relief
Health Alliance International
Health Alliance International
Thank you to the following donors for their generous support of the CDP Global Recovery Fund.
Alger Candlelight Giving Program
Amgen Foundation
Bingo Blitz
Stephen & Tressa Buente Charitable Foundation
East Bay Community Foundation
Florida Blue Foundation
Lisa and Douglas Goldman Fund
Blanche F. Ittleson Foundation
James R. Meadows Jr. Foundation
National Philanthropic Trust
The Peterson Family Fund
Raymond James Charitable
Louis Roussel III
Gary Schwager
Kyra Sedgwick and Kevin Bacon Foundation
Superba
T. Rowe Price Foundation Inc.
Susan Templeton
Your support has a direct and significant impact on our efforts to minimize the impact of disasters and crises on communities worldwide through thoughtful, equitable and responsible recovery.
Connect With Us
For more information on the situation and to learn about available resources, contact Alex Gray, Director, International Funds.
To make a donation or learn more about the Fund, please contact our Development Team.
Photo by Annie Spratt/Unsplash.