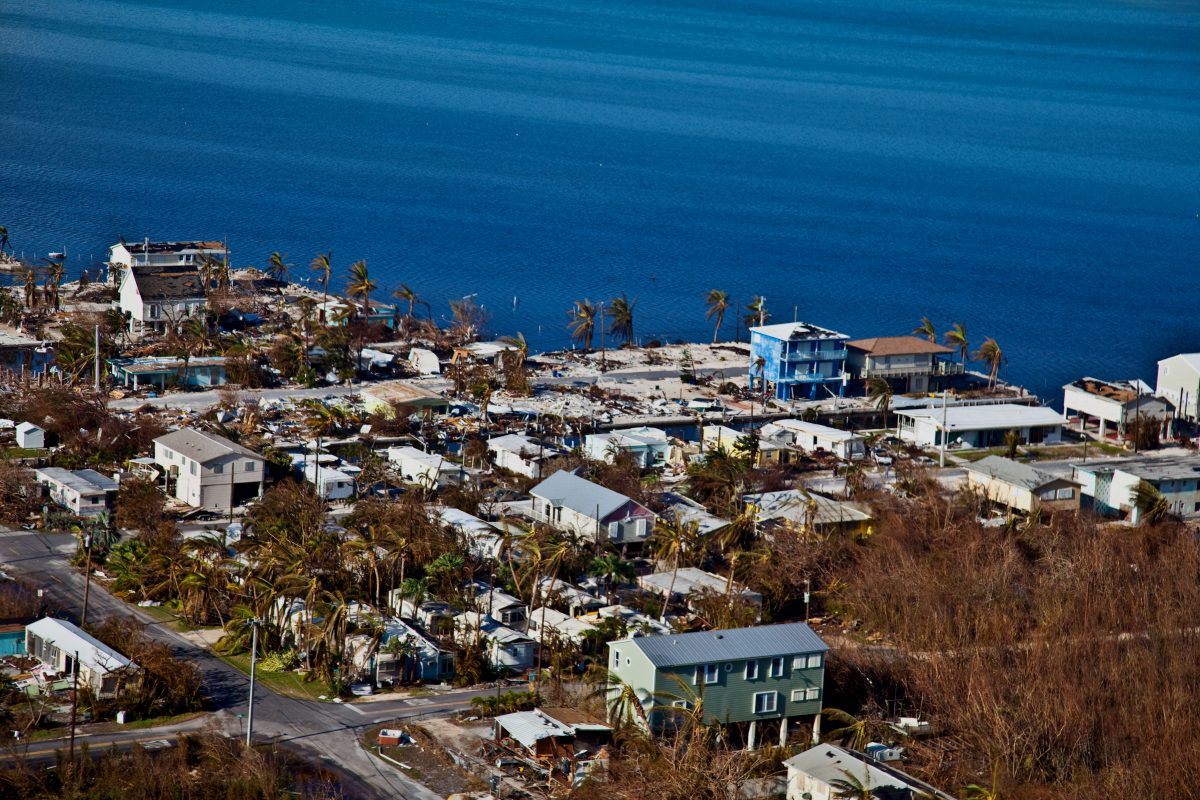 Hurricanes, Typhoons and Cyclones
Overview
Hurricanes, typhoons and cyclones pose significant global threats to life and property, including storm surges, flooding, extreme winds and tornadoes. Additionally, rainfall rates and cyclone intensities are projected to increase.
According to the National Hurricane Center (NHC), "A tropical cyclone is a rotating, organized system of clouds and thunderstorms that originates over tropical or subtropical waters and has a closed low-level circulation."
Hurricanes, cyclones and typhoons are different terms for the same weather phenomenon. The World Meteorological Organization (WMO) describes the terms in the following manner:
"In the western North Atlantic, central and eastern North Pacific, the Caribbean Sea and the Gulf of Mexico, such a weather phenomenon is called hurricanes.
In the western North Pacific, it is called typhoons.
In the Bay of Bengal and the Arabian Sea, it is called cyclones.
In western South Pacific and southeast Indian Ocean, it is called severe tropical cyclones.
In the southwest India Ocean, it is called tropical cyclones."
As a storm moves across the ocean, it picks up warm, moist air from the surface and dispenses cooler air aloft. As the storm makes landfall, it loses momentum, no longer fueled by the warm ocean air. Winds of up to 185 miles per hour are just one damaging aspect. Drenching rains can cause heavy flooding inland. Wind-driven storm surges also can dangerously inundate low-lying areas.
Hurricane Ida is an example of a cyclone that demonstrated repeated cycles of strengthening and weakening as it moved across a large geographic area from Cuba to Louisiana to New York. Ida produced a devastating storm surge that moved inland from the immediate coastline across portions of southeastern Louisiana. Most hurricanes quickly weaken upon landfall, but Ida remained a major hurricane for nine hours. As the world warms, it is expected that more tropical systems will use the warmer water to intensify rapidly. Ida went from showers to a 150-mile-per-hour hurricane in three days.
A tropical cyclone may occur somewhere in the world throughout the year.
According to the WMO, "The typhoon season in the western North Pacific region typically runs from May to November. The Americas/Caribbean hurricane season runs from June 1 to November 30, peaking in August and September. The cyclone season in South Pacific and Australia normally runs from November to April. In the Bay of Bengal and Arabian Sea, tropical cyclones usually occur from April to June, and September to November. The East Coast of Africa normally experiences tropical cyclones from November to April." Discussions among experts are ongoing about whether the start and end dates of these traditional seasons need to be revised.
Hurricane forecasting continues to improve in accuracy and in its ability to provide advance warning. However, it remains an inexact science because of the number of factors that can influence a hurricane's direction and strength, including wind speed, size, rainfall and duration.
In the U.S., the NHC provides the public and its partners with information on tropical weather, including forecasts. The NHC is a division of the National Oceanic and Atmospheric Administration (NOAA) and is located at Florida International University in Miami, Florida.
The NHC uses many models in the preparation of forecasts. However, they state, "Users should also be aware that uncertainty exists in every forecast, and proper interpretation of the NHC forecast must incorporate this uncertainty."
Globally, early-stage formation is monitored by WMO through its World Weather Watch and Tropical Cyclone Programmes. WMO regional centers provide, in real-time, advisory information and guidance to the National Meteorological Services. The National Meteorological Services of countries then issue official warnings.
Key Facts
How to Help
Invest in local organizations. In the U.S., Long-Term Recovery Groups provide coordinated services to enable everyone to recover. Building the capacity of such organizations with a long-term presence at the local level helps ensure preparedness and recovery efforts are contextually relevant and effective.
Support tropical cyclone preparedness. Creating evacuation plans, assembling disaster supplies and retrofitting homes can help lessen the impact of a tropical storm. Preparedness support is essential for low-income individuals and marginalized populations. Ensure that communication materials are culturally appropriate and in the local population's preferred language(s).
Support mental health and psychosocial support programs. Not all tropical cyclone damage is visible. Exposure to hurricanes is a risk for new-onset major depression, generalized anxiety disorder and post-traumatic stress disorder. Mental health support and care are needed in preparedness and recovery.
Fund efforts to protect and improve natural barriers in coastal areas. Natural features such as marshes, wetlands, mangroves and coral reefs are a primary line of defense against the coastal hazards of hurricanes, typhoons and cyclones. In Louisiana, the Coastal Master Plan has provisions to create or restore almost 34,000 acres of marsh that make up a land bridge buffer. According to the World Bank, integrating "green" infrastructure, such as mangroves, with traditional "gray" infrastructure like embankments can provide cost-effective protection from tropical cyclones.
What Funders Are Doing
The Center for Disaster Philanthropy (CDP) has a standing Atlantic Hurricane Season Recovery Fund. CDP also makes grants in support of tropical cyclone recovery and preparedness through the Global Recovery Fund, the Domestic Recovery Fund and in partnership with Google. The following are examples of related grantmaking.
The Robert Wood Johnson Foundation awarded $1.2 million to Meadows Mental Health Policy Institute in 2021 to address children's mental health needs in the aftermath of Hurricane Harvey by expanding behavioral health services and school-based initiatives, establishing a law-enforcement training program to assist in identifying at-risk youths, and creating and disseminating evaluation tools for use by other communities in future disasters.
The Bayou Community Foundation awarded $25,000 to United Houma Nation in 2021 for food and supplies for tribal members in Lafourche and Terrebonne following Hurricane Ida.
The Bill & Melinda Gates Foundation awarded $13,556 to Fundacao Para o Desenvolvimento da Comunidade in 2020 to support climate-smart and resilient recovery programs boosting immediate livelihood and future response capacity in local governments and communities affected by Cyclone Idai in Mozambique.
The National Fish and Wildlife Foundation awarded $4.9 million to Mobile County, Alabama, in 2020 for the design and implementation of a breakwater and a coastal marsh in Mobile Bay that will create and protect critical coastal marsh habitat and reduce the vulnerability of the only hurricane evacuation route between the mainland of south Mobile County and Dauphin Island.
American Jewish World Service awarded $5,327 to Centre for Youth and Social Development in 2020 to provide psychosocial support and education for children in Odisha, India, affected by Cyclone Fani through the creation of child-friendly spaces.
Learn More
We welcome republication of our content. Please credit the Center for Disaster Philanthropy.
(Photo: Destruction can be seen from the air in and around Marathon, Florida as recovery efforts continue following Hurricane Irma. Credit: U.S. Customs and Border Protection photo by Kris Grogan)